Everything cool cats want to see and do on St. Simons Island
| | |
| --- | --- |
| Posted on September 18, 2020 at 3:37 PM | |
Dial M for Murder
Article: Deconstruction of a Scene
This article is about one scene in the film "Dial M for Murder" that between Tony Wendice (Ray Miland) and Swan (Anthony Dawson). 
After introductions at the door, Swan and Wendice sit down for a conversation.  During this initial segment, the camera goes back and forth between the two men, 20 times in a couple of minutes.
The camera is usually on the one speaking, but not always.  Wen the camera is on the other, it is to see his reaction.  This is one way of breaking the monotony of the usual two-shot conversation.
Wendice joins Swan on the sofa, and instead of being in front of the sofa, Hitchcock moves us to observing from behind the sofa. With a lamp between the two.  It is as if we are spying on the two men, overhearing the conversation. 
Every time the viewer might become complacent, the camera angle jars us, off guard.  This is enough to kep us interested, but not enough to distract from what is a very important piece of dialogue. 
Helping to set up this listening theme, there is a Japanese porcelain figurine in the picture, a man who also listens.
As Wendice establishes his control over Swan (he has information to blackmail Swan with) Hitchcock changes the camera angle on Wendice.  Wendice is sitting in a chair, leaning back, confident, and the camera is below him, looking up.  For most of the conversation, the camera has been at eye level, not now that Wendis has established his dominance, we are seeing him from  below, looking up at him.
His tennis trophies, symbols of his competence, line the mantle over his head. 
During this scene, Hitchcock has the camera move so that we can see every part of the room they are in behind Wendiss. 
As the two men reach agreement, enough for Wendiss to start detailing the crime for Swan, the two men stand at the desk, the scene of the murder, with the telephone, crucial in the set up, center frame.
Then, Hitchcock does something totally unexpected, he films from the ceiling.  We see the two men from above, giving us another feel for the room where the murder will take place.
(Hitchcock also used this camera angle in "Shadow of a Doubt" and "The Men who Knew Too Much.")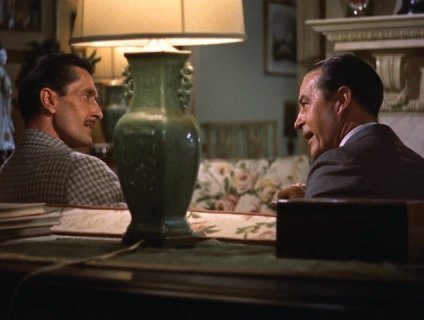 The scene if more fully described in the article which gives you a good idea of how much planning and talent is involved in a Hitchcock film. 
Categories: Film
/