Everything cool cats want to see and do on St. Simons Island
| | |
| --- | --- |
| Posted on August 14, 2020 at 1:14 PM | |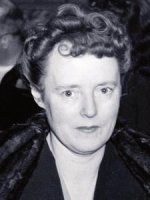 Alma Reville (1988-1982)
It's Alma's birthday today. 
Alva Reville was an English screenwriter and film editor and a large part of Alfred Hitchcock's brain.  Charlie Champlin wrote in 1982: "The Hitchcock touch had four hands, and two were Alma's." 
Alma actually started in the film industry before Hitchcock and probably would have surpassed him had she been a man.
Hitchcock, however, was smart enough to recruit her as a film editor on the first film where he had any say.  And, almost immediately after that, asked her to marry him.
Of editing, she wrote 'the art of cutting is Art indeed, with a capital A, and is of far greater importance than is generally acknowledged'.
Alma wrote many scripts for her husband's films, including Shadow of a Doubt, Suspicion and The Lady Vanishes, as well as scripts for other directors, including Henrik Galeen, Maurice Elvey, and Berthold Viertel. Reville's filmography is extensive with writing credits on many films that were among the biggest of their time.
Selected filmography
Reville wrote or co-wrote many screenplays, including:
    The Ring (1927)
    The Constant Nymph (1928)
    The First Born (1928)
    A South Sea Bubble (1928)
    After the Verdict (1929)
    A Romance of Seville (1929)
    Juno and the Paycock (1929)
    Murder! (1930)
    The Skin Game (1931)
    Mary (1931)
    The Outsider (1931)
    Sally in Our Alley (1931)
    Rich and Strange (1931)
    The Water Gipsies (1932)
    Nine Till Six (1931)
    Number Seventeen (1932)
    Waltzes from Vienna (1934)
    Forbidden Territory (1934)
    The 39 Steps (1935)
    The Passing of the Third Floor Back (1935)
    Secret Agent (1936)
    Sabotage (1936)
    Young and Innocent (1937)
    The Lady Vanishes (1938)
    Jamaica Inn (1939)
    Suspicion (1941)
    Shadow of a Doubt (1943)
    It's in the Bag (1945)
    The Paradine Case (1947)
    Stage Fright (1950)
    I Confess (1953)
Notes:
Reville, Alma (1923) "cutting and Continuity," The Motion Picture News, 10.
Alma Hitchcock: The Woman Behind the Man by Pat Hitchcock O'Connell and Laurent Bouzereau, Berkley Trade, 6 July 2004;
Categories: Film
/