Everything cool cats want to see and do on St. Simons Island

THE PAINTED VEIL (1934)
Part 2
Greta Garbo, Herbert Marshall, George Brent
Other versions:
•       1957 with Eleanor Parker (the Seventh Sin).
•       2006 with Naomi Watts.
Directed by Richard Boleslawski
Screenplay: John Meehan, Salka Viertel and Edith Fitzgerald
Based on the novel by Somerset Maugham (1925)
Film Editor: Hugh Wynn
Costumes by Adrian.
Garbo
During the early 20s, Garbo made an extraordinary amount money for the studio.  Feeling her power, she fought for and gained more control over her roles after a contract dispute in 1925 and 1925. 
I suppose we can assume then that she was a big part in choosing this role for herself.  As I wrote in the Part 1, I think almost all of the energy of the production was invested in Garbo to the detriment of the two male leads (George Brent and Herbert Marshall)
Marshall and Brent
Herbert Marshall and George Brent are two of my favorite male actors of this era.  I was astounded when I first started reading the reviews of "The Painted Veil" when contributors were criticizing their performances.  Some of the reviewers also commented that they didn't find either actor attractive and didn't find believable that Garbo would be involved with either one of them.
Now, I find both men attractive, especially Brent, but as soon as I started watching the film, I understood what the detractors were talking about.
I am guessing that the men didn't get the most careful treatment in the script, or in the direction.  They both had some terrible (howler) lines and neither man seemed comfortable in the role.
George Brent
Cad, bounder, is not the usual role for George Brent.  Brent played best the charming, handsome flirtatious man who loves women, truly appreciates them.  My favorite of his movies are the ones he did with Bette Davis.  There is just something about the way he looks at her, half-smiling that leads me to believe he genuinely enjoyed women.
But, in this role, he is a true cad.  He is married, and seduces Garbo (who is married) consciously and methodically.  When her husband finds out, he rather dutifully tells Garbo he'll give up "everything" if she wants him to.  He then reminds her that she will be giving up her reputation as well.
Garbo responds that he (Brent) knows full well that she would never ask him to give up everything and that's why he's offering to do it.  That's about it.  Garbo runs out of the shop where they have met.  In the next scene, she is already in inland cholera ridden China with Marshall.
I suspect that Brent was uncomfortable playing this "true cad" role and the director didn't spend much time trying to help him work through it.  I have a feeling that Brent (and Marshall) were treated like afterthoughts.
You get the feeling that Brent is walking his way through the performance, putting in a workmanlike job, but little more. 
But then, I'm not sure what alternative he had.  As I said, the lines were not very good, or believable.  He's a cad and therefore can't be his true charming self.  Whatever the problems were, him in this role just doesn't work.  One of the reviewers said that she thought Erroll Flynn might have done better, playing the role as a true charming snake.  Brent just didn't seem to be able to make the true "snake" work.  
Herbert Marshall 
Marshall made a career out of playing badly done-by husbands.  One of the reviewers said that she liked that fact that in this movie he at least took some kind of revenge on the offending woman, Garbo.  He tells Garbo that if Brent will marry her, he will let her go, but when Brent doesn't step up to the plate Marshall has no problems dragging her off to a cholera-infested place in inland China.  To be fair, he discovered them together in his own house, pretty tacky (as they say in the South).
Until the two finally reconcile, almost at the end of the film, Marshall is alternatively whiny and distracted (to Garbo) and outraged (to the Chinese.)  After he finds out that Garbo hasn't left the plague zone and is working with the local nuns, he reestablishes himself as a fairly nice character. 
In the novel, we are given to understand that Marshall takes pleasure in forcing Garbo to go to inland China with him where there is a cholera epidemic.  There is a subplot where both Garbo and Marshall decide to eat salad every night, a very risky thing to do.  It is as if they are both in such despair that they are suicidal. 
But, there is none of this in the film.  At one point, when Marshall comes in late at night after tending to the epidemic, Garbo makes coffee for him in what looks like a lame dress, and says that she sees him "killing himself."  But, Marshall says that he's not doing that.
While We're on the Subject of Lame
Garbo's costumes in this film are wonderful if you dispense with the usual quibbles about why she would be wearing a slinky lame dress in a shack in the middle of China in the middle of a plague. (Picky, picky).  I would point out one exception and that is when she is at a garden party near the beginning when she and Marshall first arrive in China.
For some reason, she is wearing this white dress and a little hat that looks like a sailor's hat with a little nib on top.  The nib reminds me of that little thing that was on the top of a Brownie beanie when I was of the age to be wearing such a thing.  It's a truly ridiculous hat.
Location Shots
Several of the reviewers complained about the lack of location shooting in the film.  The shots of China are obviously cloudy stock footage with the actors filmed in front of a screen.  These same China scenes were evidently was used again in "The Good Earth." 
Budget and Temple Scene
The budget for this film was large for the time, but I'll be damned if I can see what they spent it on.  There is nothing extraordinary about the sets. The only audacious set is behind a dance performance that is supposedly taking place in a temple and is watched by Garbo and Brent.  One reviewer commented that the scene looks like something out of a stereotyped street fair in Chinatown, San Francisco.  It is pretty cheesy and largely unnecessary.
If I were editing the film, I would have cut this entire segment out.  It only serves to give the audience some time with Garbo and Brent while Brent seduces her by telling her about China.  It's not worth it, though.
There were evidently other scenes, however, that were cut.
Some reviewers pointed out that audiences at the time thought many of the scenes in the beginning of the film were too long and were cut. These must have been scenes of Garbo's family life before she marries Marshall.  There are a lot of actors in the cast list that are recorded as "scenes deleted." 
This happy family situation portrayed in the film is hardly the situation in the novel.  Garbo was not a sweet, if somewhat spinsterish, sister in a small town, bored and missing her recently married sister.  In the novel, she was a high society Londonite, spoiled and shallow.  These are two different characters.  But, it's Hollywood.
Minority Performances
I was going to write something about the man who played General Yu, but then found out that he was Swedish rather than Asian (Warner Oland).  The woman who played Amah (Soo Yong) (1903-1984) was hawaiian and acted in "The Good Earth" (1937) and "Sayonara" (1957). 
Supporting Actors
Walter Brennan is in the cast list, but it says that his scenes were deleted. 
Forrester Harvey plays Waddington.
Dial M for Murder
Article: Deconstruction of a Scene
This article is about one scene in the film "Dial M for Murder" that between Tony Wendice (Ray Miland) and Swan (Anthony Dawson). 
After introductions at the door, Swan and Wendice sit down for a conversation.  During this initial segment, the camera goes back and forth between the two men, 20 times in a couple of minutes.
The camera is usually on the one speaking, but not always.  Wen the camera is on the other, it is to see his reaction.  This is one way of breaking the monotony of the usual two-shot conversation.
Wendice joins Swan on the sofa, and instead of being in front of the sofa, Hitchcock moves us to observing from behind the sofa. With a lamp between the two.  It is as if we are spying on the two men, overhearing the conversation. 
Every time the viewer might become complacent, the camera angle jars us, off guard.  This is enough to kep us interested, but not enough to distract from what is a very important piece of dialogue. 
Helping to set up this listening theme, there is a Japanese porcelain figurine in the picture, a man who also listens.
As Wendice establishes his control over Swan (he has information to blackmail Swan with) Hitchcock changes the camera angle on Wendice.  Wendice is sitting in a chair, leaning back, confident, and the camera is below him, looking up.  For most of the conversation, the camera has been at eye level, not now that Wendis has established his dominance, we are seeing him from  below, looking up at him.
His tennis trophies, symbols of his competence, line the mantle over his head. 
During this scene, Hitchcock has the camera move so that we can see every part of the room they are in behind Wendiss. 
As the two men reach agreement, enough for Wendiss to start detailing the crime for Swan, the two men stand at the desk, the scene of the murder, with the telephone, crucial in the set up, center frame.
Then, Hitchcock does something totally unexpected, he films from the ceiling.  We see the two men from above, giving us another feel for the room where the murder will take place.
(Hitchcock also used this camera angle in "Shadow of a Doubt" and "The Men who Knew Too Much.")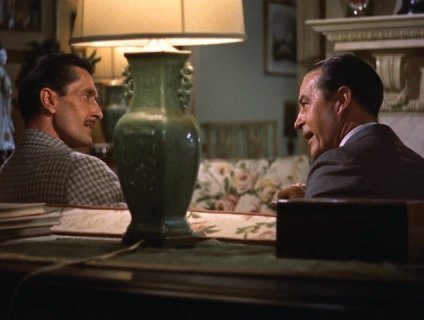 The scene if more fully described in the article which gives you a good idea of how much planning and talent is involved in a Hitchcock film. 

This article is a fascinating deconstruction of one scene in Hitchcock's "Dial M for Murder." The scene is the one where Milland talks to Swan, the man he is recruiting to murder his wife. This scene lasts over 20 minutes, a substantial part of the film. The article takes apart the interesting camera work and the positioning of the actors and the camera. It's well worth a read.
https://alfredhitchblog.wordpress.com/2014/05/11/dial-m-for-murder-continued-deconstruction-of-a-scene/
christina, Facebook: St. Simons Library Novel/Movie Series, www.christinajjohns.com, www.islandcatpaws.com

William Holden in "The Golden Boy."
The Dark Past (1948)
William Holden (1918-1981), Lee J. Cobb (1911-1976)
According to TCM, Lee J. Cobb was not happy making this film.  His daily crabbiness and dissatisfaction evidently so affected William Holden (who was trying to put back together a film career after his service in WWII) Nina Foch (the female lead) started having Holden come to her trailer for breakfast.  She supposedly consoled Holden and convinced him that in a few years, he would be more famous than Cobb.  She was right.
Before the war, Cobb had played Holden's father in a movie where Holden was the young "golden boy" torn between the violin and boxing (The Golden Boy, 1939).  Cobb was only seven years older than Holden.  The reasons for Cobb's dissatisfaction with the production were not explained, but it was implied that Cobb might have resented Holden's good looks.
This part was very different from the "boy next door" parts that Holden had played before the war.  In this movie, he looks very much like Duke Mantee, the character Humphrey Bogart played in "The Petrified Forest" (1936).
Billy Wilder would have seen Holden in this against-type role and it may have influenced his casting of Holden in "Sunset Boulevard" (1950).    
 Even though Holden gets head billing, Cobb gets more screen time playing the psychiatrist taken hostage by the escaped convict, Holden, and his girl, Nina Fochs. 
Holden plays a psychotic killer. Cobb plays the psychiatrist who while being held hostage psychoanalyzes Holden.   And, cures him in one night.  
The Dark Past is a remake of a 1939 film "Blind Alley" and based on a play by James Warwick.  In Blind Alley, Chester Morris played Holden's part and Ralph Bellamy played the psychiatrist.
This is one of the films made just after the war that was highly influenced by Freudian analysis which was thought to hold the keys to what was and still now is referred to as "the criminal mind."  What is actually being talked about (then and now) is violent criminal behavior.  Even though it is referred to as "the criminal mind," nobody tries to psychoanalyze white collar, corporate and political criminals, or believes for one second that their criminal behavior derives from some deep psychic wound.
Other examples of films based on the notion (even though simplistic) of Freudian analysis are: Psycho, Spellbound (1945), Whirlpool (1941), The Dark Mirror (1946) and Conflict (1945).  
Reviewers noted the taunt interplay between Holden and Cobb's characters as being like that of Bogart and March in a later escaped convict takes hostages film, "The Desperate Hours" (1955)
See Wikipedia and TCM,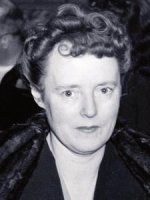 Alma Reville (1988-1982)
It's Alma's birthday today. 
Alva Reville was an English screenwriter and film editor and a large part of Alfred Hitchcock's brain.  Charlie Champlin wrote in 1982: "The Hitchcock touch had four hands, and two were Alma's." 
Alma actually started in the film industry before Hitchcock and probably would have surpassed him had she been a man.
Hitchcock, however, was smart enough to recruit her as a film editor on the first film where he had any say.  And, almost immediately after that, asked her to marry him.
Of editing, she wrote 'the art of cutting is Art indeed, with a capital A, and is of far greater importance than is generally acknowledged'.
Alma wrote many scripts for her husband's films, including Shadow of a Doubt, Suspicion and The Lady Vanishes, as well as scripts for other directors, including Henrik Galeen, Maurice Elvey, and Berthold Viertel. Reville's filmography is extensive with writing credits on many films that were among the biggest of their time.
Selected filmography
Reville wrote or co-wrote many screenplays, including:
    The Ring (1927)
    The Constant Nymph (1928)
    The First Born (1928)
    A South Sea Bubble (1928)
    After the Verdict (1929)
    A Romance of Seville (1929)
    Juno and the Paycock (1929)
    Murder! (1930)
    The Skin Game (1931)
    Mary (1931)
    The Outsider (1931)
    Sally in Our Alley (1931)
    Rich and Strange (1931)
    The Water Gipsies (1932)
    Nine Till Six (1931)
    Number Seventeen (1932)
    Waltzes from Vienna (1934)
    Forbidden Territory (1934)
    The 39 Steps (1935)
    The Passing of the Third Floor Back (1935)
    Secret Agent (1936)
    Sabotage (1936)
    Young and Innocent (1937)
    The Lady Vanishes (1938)
    Jamaica Inn (1939)
    Suspicion (1941)
    Shadow of a Doubt (1943)
    It's in the Bag (1945)
    The Paradine Case (1947)
    Stage Fright (1950)
    I Confess (1953)
Notes:
Reville, Alma (1923) "cutting and Continuity," The Motion Picture News, 10.
Alma Hitchcock: The Woman Behind the Man by Pat Hitchcock O'Connell and Laurent Bouzereau, Berkley Trade, 6 July 2004;
EAST SIDE, WEST SIDE (1949) JAMES MASON:
James Mason (1909-1984).
James Mason did not train as an actor.  He took it up as an aside during his education.
In 1933, Mason was given a small film role by Alexander Korda in "The Private Life of Don Juan," but Korda sacked him three days into the shooting.
In 1935, on the set of his second film, "Troubled Waters" Mason met Pamela Kellino.  Pamela's husband, Roy, was the cinematographer on the film.  Mason not only became fast friends with Pamela, he moved in with Pamela and her husband and collaborated with them on several stage and screen plays.
In 1937 he had a key role in "Fire Over England" with Laurence Olivier and Vivien Leigh.  Then, Korda used Mason again in "The Return of the Scarlet Pimpernel, 1937.
In 1938, Mason and Pamela Kellino played lovers on the run in "I Met a Murderer."  Shortly afterwards, Kellino's husband, Roy divorced Pamela naming Mason as co-respondent.  She married Mason in 1940.
They moved to Hollywood in the 1940s, where Pamela became a popular hostess.  According to her son, she had had numerous affairs.  She remained in Beverly Hills with "a multitude of free-range cats."  She is described as "outspoken with unrepentant, undeviating, withering aim."
Even after the divorce, Roy remained on friendly terms with the Masons and directed two of their later films "Lady Possessed" and "Charade."  
Mason achieved considerable success in the British Cinema (The Seventh Veil, 1945, The Wicked Lady, 1945, Odd Man Out, 1947) before coming to Hollywood. 
During WWII, Mason registered as a conscientious objector.  This caused his family to break with him for many years.  When he was approved by a board to do non-combat military service, Mason refused.  Then, the issue became moot when Mason was included in a general exemption for film work.
Mason received the best reviews of his career in "Odd Man Out" (1947) where he played a mortally wounded IRA bank robber on the run.
One of Mason's early films in Hollywood was "Madame Bovary" (1949).  Many of the films Mason did during this early period were not successful.  Then, he was cast as General Rommel in "The Desert Fox" (1951).  Even though Mason had refused for years to sign a studio contract, he agreed to sign with 20th Century Fox for seven years at one film a year, in order to get the part of Rommel.
In 1951, Mason did another film written by his wife and directed by her former husband, Roy Kellino (Lady Possessed, 1951).  In 1953, he did the very successful "Julius Caesar" with Marlon Brando.
In 1954, Mason did another film written by Pamela Mason and directed by his father in law, "Charade."
Mason did numerous plays on television and in the 1960s settled into supporting roles. 
One of Mason's last roles was as the corrupt lawyer Ed Concannon in "The Verdict" (1982) with Paul Newman.
Mason, along with his wife Pamela, was an ardent animal lover.  They especially loved cats.  He and Pamela wrote a book about their cats "The Cats in Our Lives," published in 1949.  Mason wrote most of the book and illustrated it. 
Mason was married to Pamela from 1941 – 1964.  Wikipedia notes that Pamala Mason was active in the Hollywood social scene and was "frequently unfaithful" to her husband.  Her son confirmed this.  In 1962, she initiated divorce proceedings against Mason, claiming adultery on his part.  There was a $1 million divorce settlement.  Mason was married to Australian actress Clarissa Kaye from 1971 until his death.  He often used his power to get Clarissa parts in his movies. 
Mason wrote an autobiography "Before I Forget, 1981."
Mason left everything to his second wife although the will was contested by his children with Pamela Mason.  Clarissa Mason left her assets to the religious guru Sathya Sai Baba, when she died in 1994.  Clarissa also left the guru Mason's ashes.  Mason's children later sued the guru and got the ashes back. 
PAMELA MASON WIKIPEDIA
Pamela Mason was the daughter of a wealthy industrialist and banker who became president of the Gaumont British Picture Corporation in the early 1920s.  She married cinematographer Roy Kellino in 1934, at the age of 18. 
Pamela's novel "Del Palma, 1948, was the basis for the film Lady Possessed.  Another novel in 1968 was "Marriage is the first step toward Divorce. 
Other famous Mason movies
•       The Desert Fox
•       A Star is Born
•       20,000 Leagues under the Sea
•       Lolita
•       North by Northwest
•       Journey to the Center of the Earth
•       Julius Caesar
•       Heaven Can Wait
•       The Boys From Brazil
EAST SIDE, WEST SIDE (1949)
It's always such a pleasure to come across a black and white movie I haven't seen.  "East Side, West Side" is one of them.
The cast itself is enough reason for watching.  Barbara Stanwyck, James Mason, Van Heflin, Ava Gardner (looking absolutely stunning), Cyd Charisse, Nancy Reagan, Gale Sondergaard, William Conrad, and William Frawley among other faces familiar from later television programs.
The music is by Miklos Rozsa, cinematorgraphy by Charles Rosher.
The costumes are by Helen Rose.
When I was a teenager, Pamela Mason, James Mason's wife, was making the rounds of the shows like Merv Griffin, talking openly about what a skunk and womanizer James Mason was.  While talk like this is now commonplace, it was mildly shocking in the 1960s and highly entertaining.  From what Pamela Mason said the role James Mason played in this film was tailor made for him.
Not only is he a womanizer, he whines to Stanwyck that he's an "addict" who can't control himself.  Evidently, the appeal of addiction as an explanation of cruelty didn't start with the rehabilitation industry in the 1970s. 
Married to Barbara Syanwyck, Mason has an affair with Ava Gardner.  Mason goes back to Stanwyck (and she forgives him) but he just can't stay away from Ava (who could?).  Stanwyck finally realizes that a man like Van Heflin is much better for her than a jerk like Mason, but not without a struggle. 
In the final scene, Stanwyck has walked out (we presume to go to Heflin) and Mason stands staring at himself in the mirror.  I couldn't help wondering how much Mason (the actor) realized he was staring at himself rather than the character he was playing.  In the final shot, we see Mason from behind.  He is alone, leaning against the patio door jamb, staring off over the East River. 
If Pamela had been there, she would have probably encouraged him to jump.    
Stanwyck and Heflin are great together.  This was the last of three movies they made together.  The others are: "The Strange Love of Martha Ivers" (1946) and B.F.'s Daughter (1948).
Stanwyck and Heflin have a chemistry that's nice to watch.  It's more about friendship than sex.  That's perfect for the roles they play in this film.  Ella Smith in "Starring Miss Barbara Stanwyck," describes them as "an excellent screen team" and "extremely natural together." 
Also discussing Stanwyck's work in East Side, Smith says that it is "particularly subtle, playing a quiet character who keeps her emotions in check. There is nothing showy or flamboyant about what she does, but she manages to convey her inner turmoil." As Smith writes, "She has a way of holding tears or strong emotion back - and then letting her voice break on the last word of a line.....The technique is a standard one, but difficult to do; unless it is supported by real emotion it will not convince."
Stanwyck looks great in the dresses designed by Helen Rose, but nobody can wear clothes like Ava Gardner.  I can't imagine facing a more threatening "other woman."
Gardner had already made her breakout film "The Killers" with Burt Lancaster by the time this film was made, but she was still not a leading lady.  She held her own, however, against Stanwyck.
The one scene they have together is electric and it is a pleasure to watch the two of them circling around each other.
Stanwyck in their scene, plays so well the woman with inner strength. Her confidence in her jerk of a husband says more about her than about him.  Even though she is completely deluded by his charm and his promises, you never lose respect for her.
Gardner plays a wonderful, ruthless other woman, ready to fight to the death for a man she knows is just as unprincipled as she is.  She even tells him how weak he is and delights in manipulating him.  But, when Stanwyck delivers her final speech to Gardner, you also can see just the right touch of vulnerability, doubt in the icy Gardner.  As I said, it's just beautiful to watch the two of them.
This is another scene in which you wonder how much of the drama was based on real feelings.  Gardner and Stanwyck's husband Robert Taylor, had engaged in a torrid affair when they worked together on Gardner's previous movie "The Bribe (1949). It's not known whether Stanwyck new about the affair or not, but Stanwyck doesn't strike me as a woman who misses much.  She and Taylor divorced the following year.
Mason, at this time, was a big star in England.  He came to Hollywood, but refused to sign a contract with a studio fearing he would be typecast.  He was uncomfortable attempting an American accent in this film and was criticized for his voice in this picture.  There is a scene between him and Stanwyck in which he says something like: You convinced me to read poetry and I convinced you to watch sports.  It's jarring because you can't imagine James Mason drinking beer at a sports arena.  But, by and large, he pulls it off.  I would have cut this particular dialogue, though.
And evidently, Mason wasn't the only one uncomfortable on the set. Cyd Charisse was playing her first straight dramatic role.  She plays the woman in love with (and eventually dumped by) Van Heflin.
Gale Sondergaard was only 50 when she played the part of Stanwick's mother in this film. Stanwyck was 42.  This was the last role Sondergaard played in a film for 20 years.  She refused to testify before the House Un-American Activities Committee and was blacklisted along with her husband, producer-director Herbert Biberman.
Bill Frawley (of I Love Lucy fame) plays the bartender.  Frawley became impossible to cast in films because of alcohol problems.  Lucy, however, believed in him and stood up for him to cast him in her long-running series.  She was a good egg, Lucy.  Too bad about her own jerk of a husband.
This is a clever script written by Isobel Lennart and like so many good films of the era, it was based on a novel (by Marcia Davenport).   
Of course, the bad girl, Ava Gardner, has to be killed, but both  Stanwyck and her husband are suspects.   It is here that the detective expertise (recently used in the war) of Van Heflin comes into play to save them both and prove Heflin a good guy.
There's a wonderful scene where Heflin suddenly starts acting like a drunk to trap the real killer, an enormous blond model played by Berverly Michaels.  Heflin and Michaels get into a slugging match (that's right I said a slugging match, a slugging in the face match) in the front seat of a car.  In the film, Heflin wins and knocks Michaels out, but if it was real life, I would bet on the blond.
According to IMDB, Greer Garson, Fred MacMuray and Claudette Colbert were considered for the leads.   
The film was directed by Mervyn LeRoy who reportedly loved working with Stanwyck.  He said she was one of the easiest, most cooperative and most professional actors he ever worked with.  Stanwyck started off poor, without parents, and worked herself into a career in films.  She never lost the work ethic she established on her way up and maintained a career long after her contemporaries had stopped working.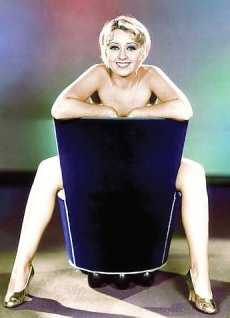 Three on a Match (1932)
Directed by Mervyn LeRoy
Starring - Joan Blondell, Bette Davis, Lyle Talbot, Humphrey Bogart, Allen Jenkins, Edward Arnold, Warren William
Glenda Farrell plays a small part which is uncredited as Vivian's friend in prison.  Jack La Rue, Ann Shirley and Jack Webb are also in the film in small parts.   
Gowns by Orry-Kelly
The little girl with the best grades winds up in the worst circumstance in later life.   Her two friends try to help her.
This is a pre-code drama with Ann Dyvorak as a married woman, not only running away with Lyle Talbot, but taking her child with her. She becomes a coke addict and eventually commits suicide to save her child.
Dvorak was the last of the women to be cast.  At the time of the realease of the film, the Lindbergh kidnapping was in the news and the kidnappers had not been caught. The film did not do very well however, and cinema owners were told to focus on the cast in their marketing and not to even mention the kidnapping. The reviewer for the NYT called the film "tedious and distasteful" as well as "unintelligent."    
This was Bogart's first released film as a bad guy.  You can understand why they kept casting him as such.  He has a murderous stare and tries to get the other bad guys to kill the kid as just a part of doing business.
The film uses young actors to portray the three girls in grammar school (this is where Ann Shirley comes in).  And then there is repeated use of news footage montages to mark the passage of time.  Some people found these montages clever, but I thought they got a bit tedious.
According to an article in TCM
·      This film was made at a time when Warner Brothers was basically running a factory assembly line of movies in the early thirties. 
·      Blondell, Davis and Bogart were relative newcomers who only became famous later.
·      Davis and Blondell had only supporting roles.
·      Davis later complained that the director, LeRoy, spent the entire shooting talking about what a great dramatic star Blondell was going to be and virtually ignored Davis.  She also experienced unwanted sexual advances from Williams who was known for such behavior. 
·      Davis resented this "bland sister" part and felt that she was never going to get away from these roles.  It's almost tempting to wonder why her character was even included in the story.
·      LeRoy later wrote an autobiography and admitted having told the press that he didn't think Davis was going to make it as an actress.  "She's been cold to me every since."  He said.
·      It was three years after this film before Davis gave her breakout performance in "Of Human Bondage." 
·      It would take Bogart until 1936 and "Petrified Forest" before he got any critical acclaim.
·       
Sources: TCM, Wikipedia, IMDB
I
/